July 4, 2019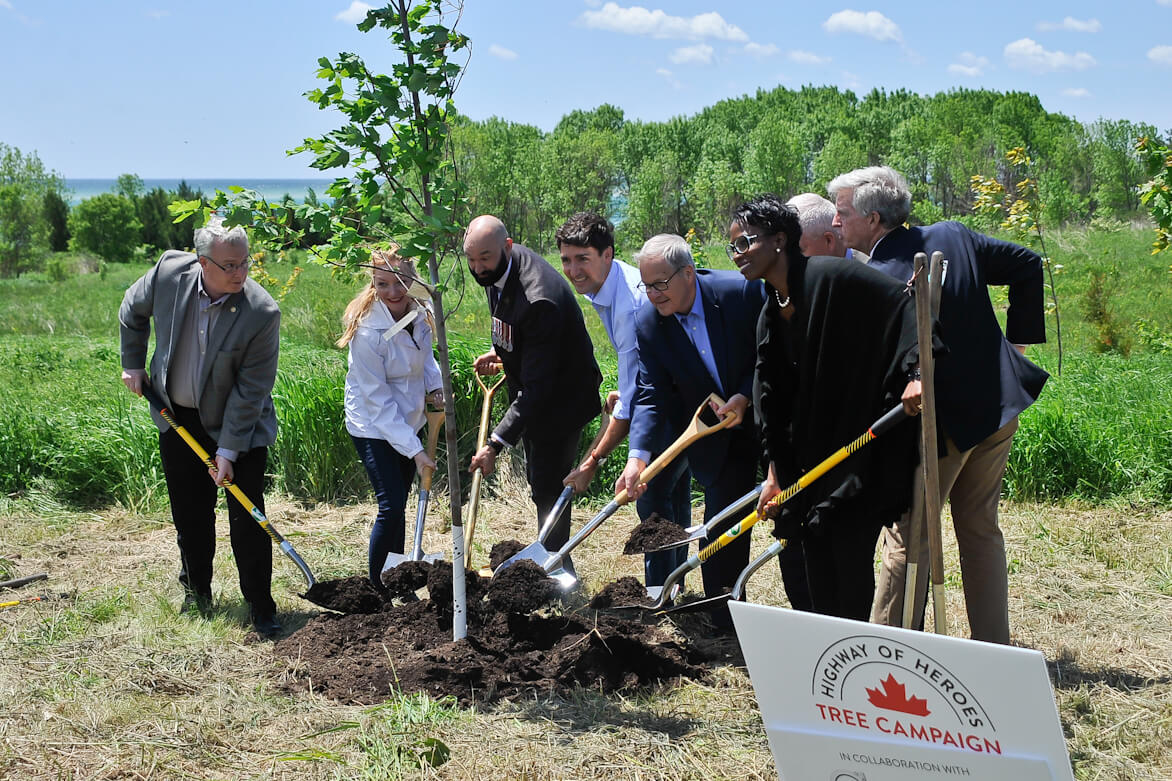 Trudeau takes part in tree planting campaign to commemorate soldiers
Prime Minister Justin Trudeau announced $2.9 million in federal funding for the Highway of Heroes Tree Campaign at a tree planting event held at Intrepid Park in Whitby, Ont., on June 14.
"Recognizing the courage of our service men and women, remembering the sacrifices they made, and the values for which they fought, shouldn't be something we do just when a big milestone comes around," Trudeau said, noting a recent tour of France to mark the 75th anniversary of D-Day. "In fact, I think it's really important, that as Canadians we create more opportunities, both big and small, to say thank you. The Highway of Heroes is a beautiful way to do just that, and that's why our government is so proud to support this initiative."
Several hundred people, including uniformed Armed Forces members, the Minister of Veterans Affairs, Lawrence MacAuley and Whitby Member of Parliament, Celina Caesar-Chavannes gathered at the expansive park near the shore of Lake Ontario to plant about 300 trees.
"In fact, I think it's really important, that as Canadians we create more opportunities, both big and small, to say thank you.
— Justin Trudeau
"The support we receive from the Government of Canada puts our campaign on an indisputable trajectory toward success and the completion of our living tribute," said Mark Cullen, Chairman and Co-Founder of the Highway of Tree Campaign. "Through the support of corporate partners, like the Volvo group, as well as Canadians from coast-to-coast, we'll be able to match every dollar that Veterans Affairs will provide with over two dollars from corporate, private and other funding sources. And when you consider the environmental benefits of two million new trees — one tree for each of our Armed Forces heroes, it's easy to see how this is a good investment for all Canadians."
The Highway of Heroes Tree Campaign's goal is to plant two million trees between Trenton and Toronto — one tree for every Canadian that has served during times of conflict since Confederation and including the war of 1812. Of these two million, 117,000 will be planted directly adjacent to Highway 401 — the stretch of highway from CFB Trenton to the Coroner's Office in Toronto that represents the final journey for those soldiers who have lost their lives while serving in the Canadian Armed Forces.
To complete this project, the campaign is striving to raise $10 million in pledges from government, individuals, corporations, foundations, and those who can donate in-kind goods and service. To date, approximately $7.5 million has been raised and over 85,000 trees have been planted, including nearly 30,000 directly adjacent to the highway.
Corporal Nick Kerr received a commendation for his volunteer work.
Several dozen Canadian Forces members were on hand for the event.
---
During the Intrepid Park event, Afghan Conflict veteran and dedicated Highway of Heroes Tree Campaign supporter, Corporal Nick Kerr was presented with the Minister of Veterans Affairs Commendation for outstanding dedication to volunteer work.
"The Highway of Heroes is a chance for all of us to express our gratitude and celebrate the many contributions of service members both at home and abroad," Prime Minister Trudeau said. "But their desire to help the most vulnerable, to better our world, and heal its woes does not stop once they return home to Canada, or retire. Many of them, never stop answering the call to serve no where they are, or what they do. Take, Corporal Nick Kerr, of the Canadian Armed Forces, for example."
Minister MacAuley called the Highway of Heroes Tree Campaign an "incredible campaign to honour the men and women who serve our country," and also praised Kerr's extensive volunteer efforts.
Kerr thanked the crowd for attending the event and "for supporting what this campaign means to me, what it means to Canada, and especially what it means to our veterans and serving members." He also called on the gathering to join in on the tree planting effort, which followed a ceremonial tree planting by the dignitaries on hand.
Landscape Ontario and the Ontario Horticultural Trades Foundation are founding sponsors of the campaign. Many LO home office staff, including LO Executive Director, Tony DiGiovanni helped to plant trees at Intrepid Park and got a chance to meet the Prime Minister.
To learn more about the Highway of Heroes Tree Campaign, visit
HOHtribute.ca
.